Seed Clean Machine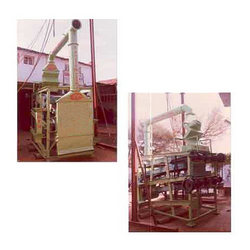 Backed by our sophisticated infrastructure, we manufacture and supply a range of Seed Cleaning Machines that are used as a cleaning device of grains. These are suitable for all crops such as maize, cotton seeds, copra, rape seeds, sunflower, ground nuts and others. Precision engineered, these machines deliver superior performance, easy to use & handle and have long service life. Moreover, our range is available in different sizes and specifications as per the clients'' requirements.

More About Our Seed Cleaner Machine:
PEMA are leading manufacturer and supplier of seed cleaning machine. We present our range of seed cleaning machines that work with precision in their desired application. Our range can be availed in different sizes that are as per the client's requirements. The range of seed cleaners that we offer is widely used for efficient cleaning of seeds of all crops like maize, cotton seeds, copra, rape seeds, sunflower, castor, canola, ground nuts, etc.
BENEFITS Of Seed Cleaner Machine:
Seed cleaning machines are available in various capacities and specifications and deliver superior performance, are easy to use and handle and offer long service life.
Seed cleaning machine is a cleaning device of the grains. Commercial grains will have impurities like sand, small stones, cobs, etc. To remove these impurities this machine is design to give you maximum clean grains to make the processing better.
This is a mechanical type cleaning system. With different screens to get different grades of grains cleaning. One can adjust as per their requirement to get the maximum results.
This machine is balanced so well that even proper levelling & little foundation can serve the purpose. Provided the balancing of the machine is not disturbed.
Highly efficient cyclone is also provided with this type of Seed cleaning machines, to collect the lighter impurities from the machine. The damper arrangement is also given to control the airflow to minimize the small grain escaping to cyclone.
Permanent magnet is also provided to remove the iron impurities from the seeds it is also recommended to clean the magnet every two days to get the best results, but this is depending on the amount of iron in the seeds.
Application Area Of Seed Cleaner Machine:
Steel /MS Fabricated Structure with single /double deck wooden/steel trayes.
Dust collecting system.
Robust Fabrication  ,Negligible Maintenance and  Simple operation
High processing speed
Highly Efficient for every size of seed.
Dust Collector is provided for a pollution free machine.