Industrial PEMA Roster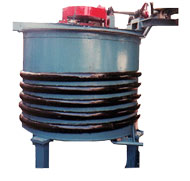 PEMA Bucket elevators represent one of the most popular system for elevating bulk materials, seeds and cake in use today. Their inherent simplicity makes them a popular choice within manufacturing and processing factories all over the world. It can elevate a variety of bulk materials from light to heavy and from small to large lumps.
Screw feeders may be a separate unit, or it may be extended by section of a normal screw conveyor to any practical length.

More About Our Industrial PEMA Roster:
PEMA offers both "world class" and "standard" screw feeders to best match your needs. Used to control the rate flow from a bin or hopper. It is ideal for handling a wide variety of materials from sluggish to free. Single screw feeders are most common. Feeders are necessary whenever we want to deliver a uniform flow of dry or moist fractions of rock and minerals
Live bottom screw feeders offer the ability to utilize multiple screws to feed material from broad base bins.
Generally feeders are categorized by the size of feed material, apron feeder being the solution to primary feeding application.
BENEFITS Of Industrial PEMA Roster:
Rubber lagged
Simple and robust construction and easy in operation and maintenance.
SS/ MS both fabricated available as per the Customer requirements
The exact width and length of the feeder are selected to meet specific application requirements
Application Area Of Industrial PEMA Roster:
PEMA feeders are used in a wide range of industries to extract dry, hard and abrasive or wet and sticky material from dump hoppers, bins and stockpiles. They typically discharge to crushers, scalping equipment and conveyors that require control of the feed rate.