Coarse Grinder & Fine Grinder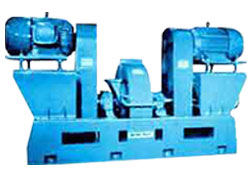 Owing to our vast industrial expertise, we are offering a range of high quality Coarse Grinder and Fine Grinders. These are used in various industries to shred, curl, granulate, grind, shear, twist, blend, rub, fiberize, pulverize, crack, cut, fluff, hull and refine different types of material. Engineered with precision, these grinders are acknowledged for their robust construction, high performance and better durability standards. Our range is also customized as per the specific requirements of clients.

More About Our Coarse Grinder:
PEMA Coarse Grinders are extremely versatile machines. Our processing technology, experience and knowledge spans more than 35 yearrs, enabling us to custom design and manufacture mills to meet your needs. Coarse Grinders can be designed to Shred, Curl, Granulate, Grind, Shear, Twist, Blend, Rub, Fiberize, Pulverize, Crack, Cut, Fluff, Hull, and Refine. We offer a wide variety of disc mills: Single-disc or double-disc; cast iron or stainless steel, and standard or watertight. Power ranges from 5 HP to 1000 HP, affordable wide capacity ranges.
Application Area Of Coarse Grinder
Handwheel plate gap adjustment.
V-belt drive with overhead or back motor mounts.
front swing door plate access.
Packing gland shaft seals.
Cast and fabricated construction.
Quick release plate unloading.
Gravity or mechanical feed.
Available in carbon or stainless steel.
Drives up to 250 HP.
Fine Grinder
PEMA fine Grinders are available in sizes 24" to 36". Cast iron or st. stainless, v-belt drives overhead or floor motor mounts, sliding bearing plate gap, adjustment spring-loaded control disc packing seals, quick release system unloading bolted plate attachment door seals  the mill  affording higher throughput.  Distribution plate & renewable ring.
Applicatio Area Of Fine Grinder:
Alloy powders
Aluminum chips
Bark
Barley
Borax
Brass chips
Caustic soda
Chemical salts 
Copper powders
Corn
Cotton seed hulls
Drugs
Leather
Oil cake
Phosphates
Rice
Sawdust
Seeds